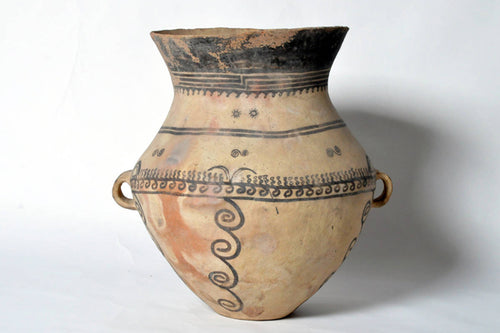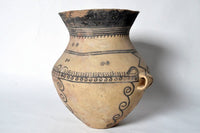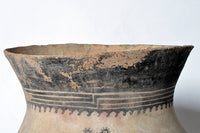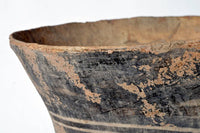 Description
This pot most likely came from what is now modern Kansu, the corridor west of the Yellow River and in the T'ao River Valley region of northwest China and east Mongolia. The Hsia Chia Tien culture (1890-1100 BC) that resided here actually predates the Shang Dynasty (1523-1028 BC) of the Central Plain. This culture and the superseding cultures (Ch'I-Chai, Hsin Tien, Ssu Wa, and Sha Ching) remained ignorant to the potter's wheel, which was already being used by their contemporaries in the Central Plain. Pots of these cultures were often built by coil construction and have an irregular appearance. This particular pot is likely to be of the Hsin Tien culture. A coat of red slip gives the clay body a pinkish patina, which is beautifully contrasted by black painted decoration. External decoration indicative of this period includes zigzags, whorls, crosses, checkerboards, double hooks, and occasional animal motifs. It has some repairs and a thermoluminescence (TL) test is available.
Origin | China
Dimensions | 26"W x 26"D x 28"H
Age | 7000-1524 BC
Material | Ceramic
ID | 02C06072
Need Assistance? Call 312.755.1266
Shipping Options
Furniture/Large Items
Will be shipped with a White Glove Delivery company. The Golden Triangle will assist in setting up delivery. Items typically arrives within 2-3 weeks. 
Small/Medium Items 
UPS Ground Delivery. Arrives in 5-7 business days.
In-Store Pickup
 Call us at 312.755.1266

 to arrange a time and date for pick-up.
 Return Policy
If you are not completely satisfied with your purchase, please contact us directly at info@goldentriangle.biz

 

or at 312.755.1266. We offer a 3-day return after receiving an item. All sale and discounted items are final sale and not returnable.
Items must be returned in the condition received. The Golden Triangle reserves the right to refuse the return of damaged pieces.


See our full shipping & return policy here or contact us at 312-755-1266 or info@goldentriangle.biz with any questions you may have!
Payment & Security
Your payment information is processed securely. We do not store credit card details nor have access to your credit card information.