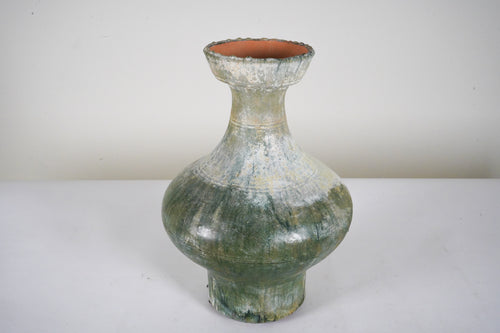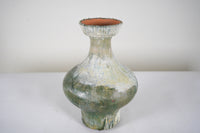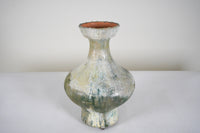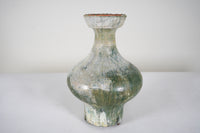 Description
This is a fine example of a Han hu wine storage vessel, buried for the afterlife. The compressed globular body narrows sharply to a slender waisted neck, covered with a dark green lead glaze that has developed a silvery patina due to long-term exposure to water.
This large, painted storage jar would have been placed in a tomb in north-central China during the Western Han dynasty (206 B.C.E.–9 C.E.). It is based on the hu bronze wine vessel shape, particularly inlaid bronzes from the late Shang dynasty through the Warring States (472–221 B.C.E.) periods. The shape of the hu may have been based on the vegetable gourd. The unique feature of this piece is its lack of decoration -there are no molded ring handles or other references to bronze vessels.
During the Han, a variety of cults and belief systems existed. Some systems aimed to prolong life, others to provide for continued life in the tomb, still others assumed the presence of immortal kingdoms to which the soul was transported. As bronze and precious materials were banned for burial, ceramics were substituted. This had the practical effect of making the tombs less attractive to looters.
Origin | China
Dimensions | 13"Dia x 18"H
Age | 206BC - 220AD
Material | Terracotta
ID | RHS022
Need Assistance? Call 312.755.1266
Shipping Options
Furniture/Large Items
Will be shipped with a White Glove Delivery company. The Golden Triangle will assist in setting up delivery. Items typically arrives within 2-3 weeks. 
Small/Medium Items 
UPS Ground Delivery. Arrives in 5-7 business days.
In-Store Pickup
 Call us at 312.755.1266

 to arrange a time and date for pick-up.
 Return Policy
If you are not completely satisfied with your purchase, please contact us directly at info@goldentriangle.biz

 

or at 312.755.1266. We offer a 3-day return after receiving an item. All sale and discounted items are final sale and not returnable.
Items must be returned in the condition received. The Golden Triangle reserves the right to refuse the return of damaged pieces.


See our full shipping & return policy here or contact us at 312-755-1266 or info@goldentriangle.biz with any questions you may have!
Payment & Security
Your payment information is processed securely. We do not store credit card details nor have access to your credit card information.