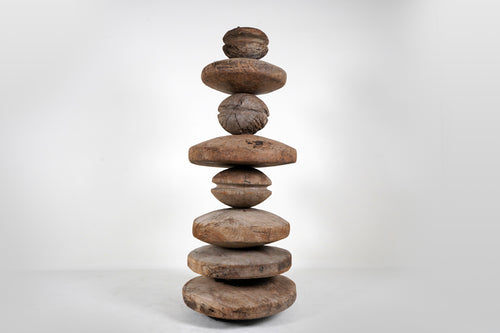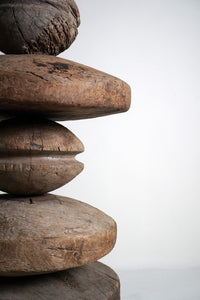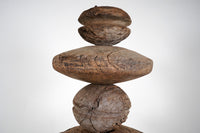 Description
This stunning sculpture makes a powerful statement in any contemporary home. The artwork is made up of a curated collection of antique Indian cartwheels and wooden pulleys, once used in textile looms. The various parts have been assembled to a create a wooden "Carin" or trail marker (like the ones made from stone). The heavy wheels retain all of their original patina, some with deep grooves from extremely long use or from exposure to weather. Most date to the early 20th Century and were used in textile mills. Most haven't been used for decades, saved due to their extreme durability and a lack of alternative uses. Many simply sat unused as rubber tires replaced wooden wagon wheels and electric motors replaced the water wheels and belts (and wooden pulleys) in textile factories.

These vintage and antique assembled composite sculptures have tremendous visual impact, particularly when placed in simple modern rooms, in corners, near glass window walls, under loggias or on outdoor terraces. Their roundness and surface imperfection are the counterpoint to perfectly smooth walls and floors. Their age and history provide a counterpoint to excessive newness.

The wheels have been mounted on a steel disc base, welded to a tall pole. The pieces of the sculpture can be removed one by one and reassembled in any sequence. For outdoor use in areas that experience rainfall or high winds, an alternative heavy-duty rust-resistant base can be ordered.
Origin | Gujarat , India
Dimensions | 14"W x 14"D x 13"H
Age | C.1900
Material | Hard wood
ID | 23T01196
Need Assistance? Call 312.755.1266
Shipping Options
Furniture/Large Items
Will be shipped with a White Glove Delivery company. The Golden Triangle will assist in setting up delivery. Items typically arrives within 2-3 weeks. 
Small/Medium Items 
UPS Ground Delivery. Arrives in 5-7 business days.
In-Store Pickup
 Call us at 312.755.1266

 to arrange a time and date for pick-up.
 Return Policy
If you are not completely satisfied with your purchase, please contact us directly at info@goldentriangle.biz

 

or at 312.755.1266. We offer a 3-day return after receiving an item. All sale and discounted items are final sale and not returnable.
Items must be returned in the condition received. The Golden Triangle reserves the right to refuse the return of damaged pieces.


See our full shipping & return policy here or contact us at 312-755-1266 or info@goldentriangle.biz with any questions you may have!
Payment & Security
Your payment information is processed securely. We do not store credit card details nor have access to your credit card information.