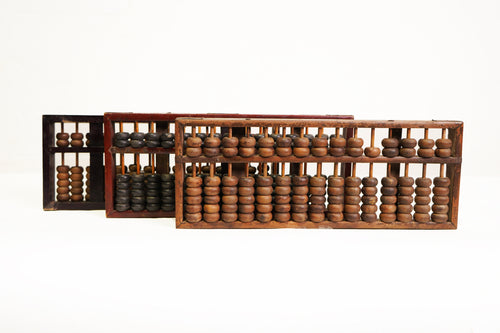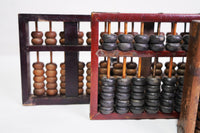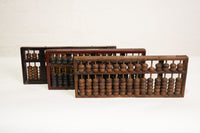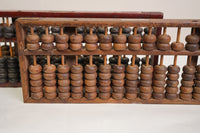 Description
The abacus, also called a counting frame, is a calculating tool which has been used since ancient times. It was used in the ancient Near East, Europe, China, and Russia, centuries before the adoption of the Hindu-Arabic numeral system. The exact origin of the abacus is not known. It consists of rows of movable beads, or similar objects, strung on a rod. They represent digits. One of the two numbers is set up, and the beads are manipulated to perform an operation such as addition, or even a square or cubic root.

In their earliest designs, the rows of beads could be loose on a flat surface or sliding in grooves. Later the beads were made to slide on rods and built into a frame, allowing faster manipulation. Our abacuses are Chinese and range from 40-100 years old, most recently used by market vendors. Many show signs of repair, which is highly desirable. The beads are quite dense and heavy and pleasing to manipulate.
Origin | Beijing, China
Dimensions | 6.5"W x 1.5"D x 16.5"H
Age | C.1940
Material | Teak/Elm
ID | 21T01049
Need Assistance? Call 312.755.1266
Shipping Options
Furniture/Large Items
Will be shipped with a White Glove Delivery company. The Golden Triangle will assist in setting up delivery. Items typically arrives within 2-3 weeks. 
Small/Medium Items 
UPS Ground Delivery. Arrives in 5-7 business days.
In-Store Pickup
 Call us at 312.755.1266

 to arrange a time and date for pick-up.
 Return Policy
If you are not completely satisfied with your purchase, please contact us directly at info@goldentriangle.biz

 

or at 312.755.1266. We offer a 3-day return after receiving an item. All sale and discounted items are final sale and not returnable.
Items must be returned in the condition received. The Golden Triangle reserves the right to refuse the return of damaged pieces.


See our full shipping & return policy here or contact us at 312-755-1266 or info@goldentriangle.biz with any questions you may have!
Payment & Security
Your payment information is processed securely. We do not store credit card details nor have access to your credit card information.